Giving an experience to someone is an exciting opportunity for them to try something new, or have been wishing to do, but never had the courage to book themselves. Our tours are great for a solo adventurer to a group of 12 friends or family. We have developed vouchers for any of our tours and for any number of participants.
Or should you wish to just gift a value that your loved ones can use against any of our tours you can purchase vouchers starting from £10 off any experience. Our basic tour is our half day experience for £50.
The gift vouchers are valid for 24 months and are free to be refreshed for a further 24. If you cannot complete the tour yourself you can also gift it to different names through a short email to the office.
You could send a family of 4 on a Sea Kayak taster experience for £100 or go the whole adventure and send them on a wild full moon camp for £695.
The English Riviera Unesco Geopark is peppered with diverse geology that creates stunning coves throughout its 22 miles of coastline. It offers such a diverse range of beaches, coves and headlands that we do not have to travel far to find ourselves within a different geological period of time. From arid desert sandstone cliffs to limestone headlands that have been folded over and studded with ancient fossils.
There is no better way than sharing an experience on the water in South Devon to catch up with friends or spend some quality time with the family. Our national and regional award winning small group tours are becoming increasingly popular. Book now or gift one to your friends or family.
Wild camps are the only way to truly escape from it all in a family discovery of the Geopark and the English Riviera. We are launching 5 Wild Camping tours for 2019 set around the full moon for ease of landing at our highest tide and exploring the inter-tidal zone at our lowest. Tours and spaces are limited however bespoke tours can be arranged, throughout the season. Each tour will take advantage of the best conditions and camping grounds.
We supply camping and technical equipment, from dry bags to thermal inflatable mats for a cosy nights sleep. We recommend you bring your own sleeping bags and go for at least a 3 season.
We will attempt to catch and forage our food and we will supply a BBQ for grilling and beach fire for wild cooking, boiling and toasting marshmallows.
Please contact for a full itinerary.
Note.
We may deliver wild camps in August but due to our busy summers they are harder to deliver. If we are able to do so it will be August the 15th and 16th.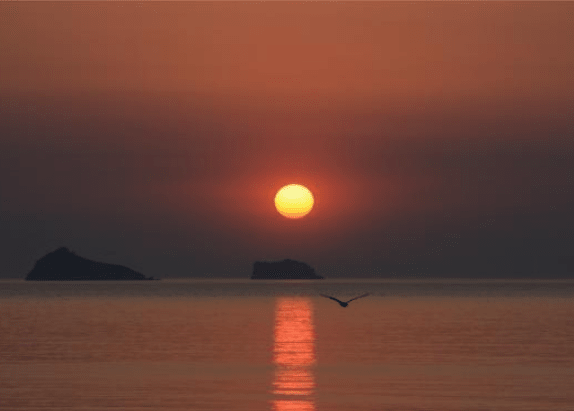 May 18th and 19th

June 17th and 18th

July 15th and 16th

Sep 14th and 15th
4 people £695

6 people £895

8 people £995
Gift a Geopark Sea Kayak Adventure
Our gifted day tours are a great way to give a partner, friend or family member. We are experts at introducing beginners to the water and Torbay is an exceptional place to Sea Kayak for the first time. Exploring the coast by Sea Kayak is the only way to adventure, using the glide of the Kayak as a vehicle to access the gems hidden among remote coves.
We will travel at a snails pace looking at the features of the bay and stopping at the odd good fishing location to try and catch our lunch. We were blessed through 2018 with such great weather that many of our clients enjoyed wild swimming in caves and from secluded beaches.
We will stop at several beaches for refreshments, exploration and cooking any caught or foraged food our lunch on hot stones, followed by toasted marshmallows.
This tour is perfect if you want to really immerse yourself in something different in an area of outstanding beauty or as others say England's most beautiful bay.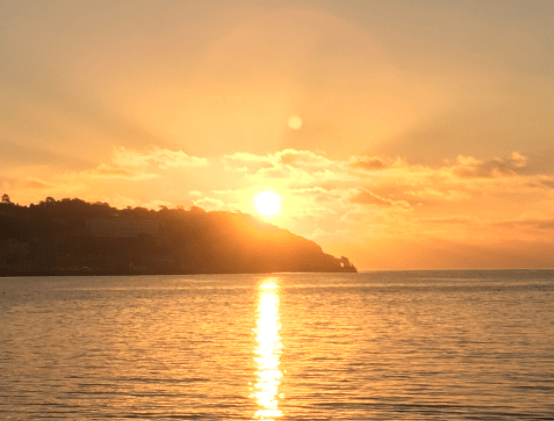 Any time of the year - best mid April - mid October
1 person £100

4 people £350

6 people £500

8 people £600

10 people £750

12 people £800
Brixham Breakwater

Brixham Oxon Cove

Goodrington Beach

Meadfoot Beach

Oddicombe Beach

Paignton Sands

Preston Sands

Tore Abbey Sands
Beach clothes, wet shoes, water, snacks, lunch, suncream, sunhat, sunglasses, swimming gear, towel, waterproof camera case or we can lend a splashproof case.
Gift a Two Day Introduction to Sea Kayaking
Our introductory courses give you a skill set that empower you to take your kayaking to the next level. This is perfect for those who have their own boats and wish to learn how to handle them more effectively. We will train on the land and sea taking in the holistic nature of Sea Kayaking and the environment that we operate within. You will be able to master easy techniques that allow you to steer the craft with your body. This naturally increases your glide and your ability to easily maneuver your craft. You are able to practise these skills progressively and at your own rate or just come and enjoy the adventure and try something new. Most paddlers find that after the course there paddling ability, knowledge and awareness is significantly increased.
Over the two days we will focus our time in the sheltered areas of the bay, using a journey to find interesting features to play around and practise maneuvering your craft. As we progress we will use these skills to Rockhopp around the Coves and through the Caves. We will launch and land from harbours and beaches creating the opportunity to practise in a range of environments and under different conditions. We will look at a range of equipment, clothing and accessories that can benefit you and your future development in the sport.
We develop your knowledge of trip planning, as well as weather and tidal navigation. You can expect to explore the headlands of Hopes Nose and Berry Head paddling through large sea caves and around the islands of Thatchers Rock and The Orestone.
Please contact for full itinerary.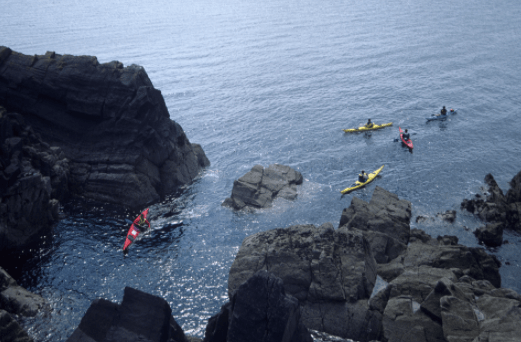 Brixham Breakwater

Broadsands

Dart Estuary

Goodrington Beach

Meadfoot Beach

Oddicombe Beach

Oxen Cove

Paignton Sands

Preston Sands

Teign Estuary
1 person £200

2 person £400,

4 people £750

6 people £995
March 01 - July 15, September 5 - October 15
To learn more about our kayaking and marine exploration trips, contact us, in Torbay, Devon.