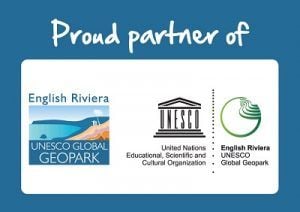 Guided tours and training by Sea Kayak and sup
So Much More Than Just A Kayak Tour
Sea Kayak Torbay is a specialist adventure operator in Geology and Wildlife tours throughout the English Riviera UNESCO Global Geopark. Backed by more than 20 years' experience in the industry, Kieran is now heading up a team of coaches to develop a new era of Watersports in Babbacombe Bay, Torquay, Devon. We still deliver mobile tours to other sheltered locations in the Bay, but we know those of you new and returning, will also fall in love with Babbacombe. Whether you're looking to learn a new paddle sport or just planning an unforgettable family day out, we've got something for everyone. Call 01803 912963 to book your experience or use our live calendar in the bottom right corner.
Our tours are now available by SUP or Sea Kayak, they are suitable for beginners of all ages. You will visit sea caves, coves, and ancient coral beds whilst hearing the story of our rocks and our ancient ancestors and animals that visited this area.
Our courses are perfect for gaining experience and improving your confidence on the water. We specialize in beginner and intermediate courses due to our sheltered nature. However, we can offer advanced courses by request but may need to travel.
Whether you are a solo paddler or multi-generational family we have something for everyone and all ages. Our fleet of Car Pedalos arrives in June, until then we have beginner, and touring stand-up-paddle boards and a GIANT SUP for groups. We also offer a wide range of solo and tandem Sit-in and Sit-on-Top Kayaks.

Adventure Tour Company of the UK 2020
We deliver high-quality tours and courses delivered by trained local experts who have a passion to share their knowledge with you.