TASTERS - HALF DAYS - FULL DAYS - SUNRISE/SUNSET TOURS
Our half-day tours are perfect for beginners, novices and those with some skills already! You can expect to see seals; there are several remote coves where we will stop at a beach and may toast marshmallows and create rock art. Our full-day Geopark Safaris are even more relaxed than our half days. With more time we can catch our lunch and cook it on the beach. We will visit more coves and take multiple beach visits travelling at a snail's pace or raising the tempo to suit our participants. Our taster tours are great for those with less time and wanting an introduction by sit-on-top kayaking.
Through the summer season and weekends, we cater for family tours and couples who wish to have an adventure with no risk. If you are an explorer family then this is definitely the adventure for you.
However, we find
our multi-generation tours
are a great way to bond with the whole family. Learning all about this world-famous Geopark and witnessing the sites of scientific interest whilst getting up close and playing with the rocks. Add in learning new skills and meeting the local marine wildlife and you've got a great day out. We are only as old as we feel and have recently started to see a lot more of the 70-plus generation joining SKT due to our comfortable boats, professional and expert guides and tranquil sightseeing tours.
There's something for every new or existing paddler in Torbay. Taking to the water from any of the sheltered sides of the bay, we are immediately engrossed in areas rich in dramatic rock formations, along with a crime scene at every cove according to Agatha Christie. Starting from any location and heading in any direction you find an abundance of marine wildlife and you are presented with extraordinary coves to explore. Our Touring Sea Kayaks glide through the water taking you to places you may not have thought possible.
If you are a young family or travelling as a multi-generation, or over 8 people, definitely call Kieran as we can offer a really great discount and lots of fun.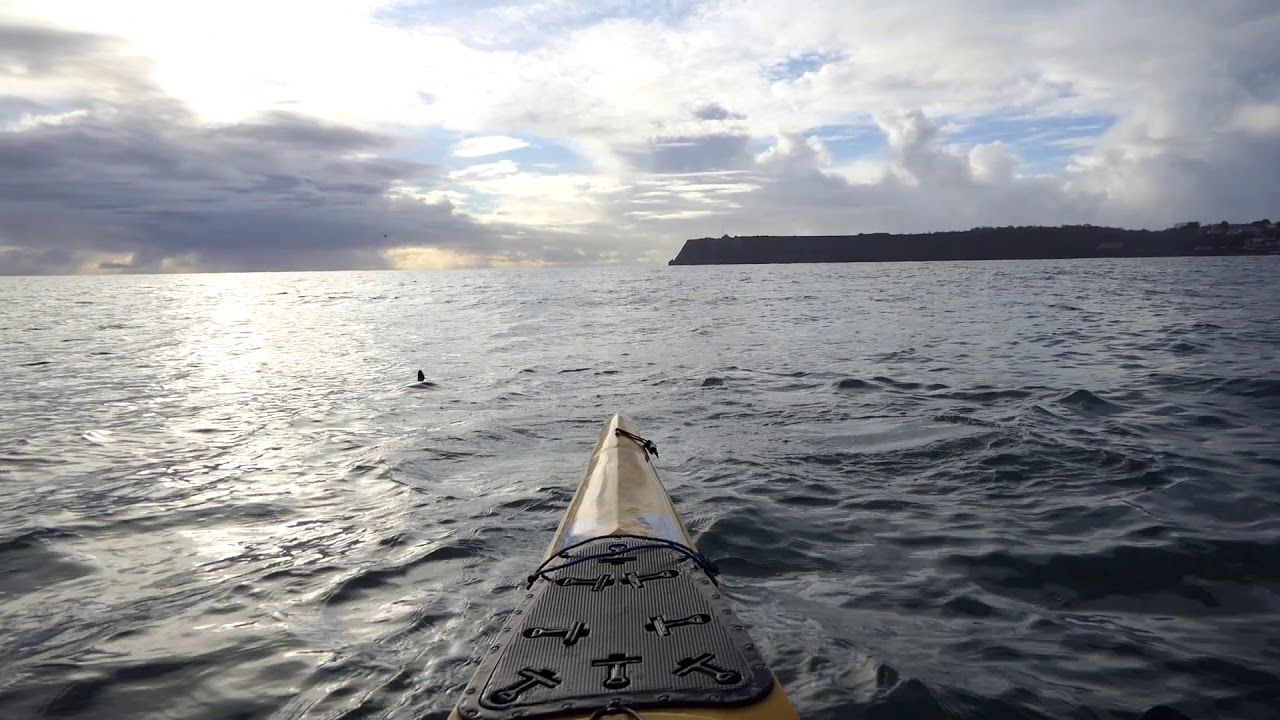 Please book through the
booking portal
where you will find a live calendar of available dates.
Our showcase tours are from Babbacombe Bay and pass through either Anstey's Cove or Watcombe Beach.
Our Taster tours at 90 minutes long and are a great way for beginners or young paddlers to access Sea Kayaking. We allow around 15 minutes for our introductory briefing, changing and becoming comfortable and familiar with your chosen boat.
All of our tours are delivered by expert guides, and these professionals give you all the skills you need to manoeuvre your craft through the water. Our guides have an in-depth knowledge of all paddle sports. From boat design to the environment they are used in. Feel free to use this time to get everything you need to know about the sport as they are eager to share it with you. They aid and assist you to access remote areas you may not have found alone safely. Our kayaks are based on West Greenland "Qayaqs" that carve through the water, designed to cover the distance with ease and handle the seas in conditions found here.
You don't need to bring any technical clothing or equipment, as we cater for everything. We supply Reed's technical Chillcheater clothing, allowing you to paddle any time of the year. We'd always advise you to bring gym gear on a cooler day, and this is worn under our dry gear. It's usually possible to keep your feet dry, but it's advisable to bring old or wet shoes.
Just in case you want to swim, a swimsuit or a change of clothes.
We cater to children aged 4 and above, providing they can fit a safety Buoyancy Aid. We only allow them to paddle tandem with an adult. This option safely gives you an exhilarating bonding experience.
Every day through the summer
The launch location is always Oddicombe Beach
Discount available for groups of 6 or more
Join us for a half day adventure anywhere in the Riviera. With so many coves to explore we will launch from a sheltered location and access either side of the Bay. We will stop on a remote beach for a picnic and if we take the fishing gear cook anything we catch on the way. We will leisurely paddle around the Geopark on an adventure to explore limestone and sandstone caves, natural arches and a whole different world in the inter-tidal zone..
If you haven't been kayaking for years or if this is the first time, you'll be amazed by this easy option. We'll take care of the logistics to ensure you have a stable and comfortable boat, paddles, and buoyancy aid, and we'll teach you the basics.
Spending half a day exploring the English Riviera is still an excellent choice if you don't have time for a full-day. You'll easily be able to access stunning features and remote coves. The morning tour starts at 10.30 and in the afternoon starts at 14.00.
Bring snacks and water with you, and in the summer months we recommend shorts and sports tops. Conditions can change, but we outfit you with any technical clothing that you may require.
We carry a waterproof camera so we can snap images as we go. We will happily forward them to you afterwards.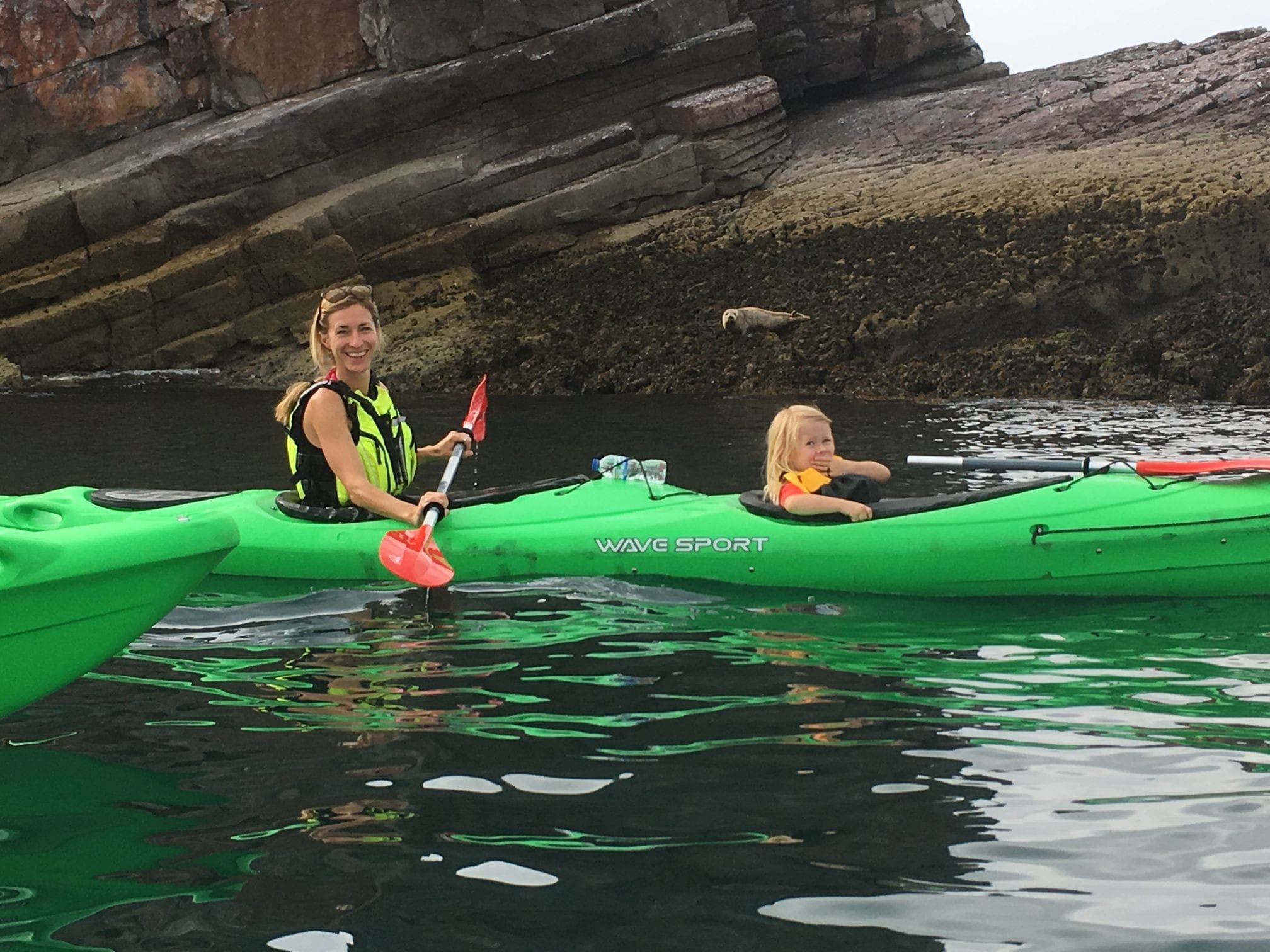 Ages 4 to 84

Under 18s Must be accompanied by an adult
0930 Morning tour
1330 Afternoon tour
Discount available for groups of 6 or more
Discover crystal coves, ancient coral coasts, raised beaches, caves, and natural arches with our geo safaris. Immerse yourself in the English Riviera and meet its marine residents and visiting Cetacean wildlife. We take in several coves and potentially the headland of Hopes Nose or Berry Head, round to St Mary's Bay where they are regular Cetacean sightings.
For the more physical paddler, it is possible to almost circumnavigate the Bay and for the family where we feel less is always more, we can have a more relaxed adventure to one of the sheltered coves and remoter beaches.
If you want to explore more of the county, we're also able to launch on the South Hams Rivers of the Dart, Teign, Erme, Yealm, and Avon. The surrounding areas offer dramatic differences through their creation, from dramatic headlands to meandering rivers with trees that grow out of the riverbeds like mangroves. Water laps at the branches at high tide and leave a navigable channel between them. The area is steeped in history, flora, and fauna, and a day tour gives you an opportunity to explore it at a comfortable pace.
Ages 8 and Up

Under 18s Must be Accompanied by an Adult
Oddicombe

Meadfoot

Torquay

Paignton

Brixham
Discount Available for Group Bookings
We are blessed with stunning late evening sun across the bay and our evening tours take advantage of the late evening sunshine from July - August
Our evening tours are a magical experience in the English Riviera. Feel free to bring refreshments for your group.
Our tours through the sunset can run any day of the week and are for 4 to 12 people. These tours are spectacular and are a completely unique experience due to the movement of the sun around the bay and the tranquillity of the water at dusk and the reduction of background noise.
Evening tours start at 1700 but can be later, please contact for more details.
Ages 8 and Up

Under 18s Must be Accompanied by an Adult
10th June - 3rd September
Evening tour - 1700 - 1900
4 - 12 / minimum 4 people
Beach Clothes

Swimming gear

Refreshments
For further information on our kayak tours and the Geo Safari, call us, in Torbay, Devon.